Hope in Battle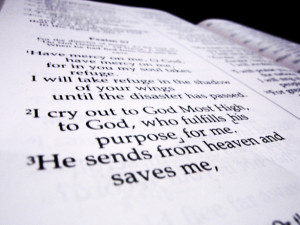 You know that feeling. You've been struggling all day with temptation to look at things you shouldn't. Your mind is trying to give you any excuse to go look, but you know that it will ultimately bring you no joy. It will give satisfaction for a few minutes, sure, but after that, guilt will set in. You know it but you don't care, because nothing could possibly be as good as those few minutes of guilty pleasure. You ask yourself "what is the harm of it?" Or "does the Bible REALLY say that these things are wrong?" Or you could try to rationalize it. "Just looking at a few pictures won't be too bad. I won't look at full-blown pornography, just a few glances at some beautiful women and I'll be good."
You try to convince yourself, but you also know that you are lying. You know that, yes, there is great harm in what you want to do, Scriptures makes perfectly clear that it's wrong, and that by even letting in a small sin in the backdoor, you are paving the way for more and more, until you ARE looking at full-blown porn.
The internal battle is maddening. It's one that I've had countless times. I desire to sin, and to look at other women that are forbidden to me.
So maybe it would be helpful to write out how we are being tempted to let those sins in the backdoor. Then we can look at it in the light – out in the open. It's always easier to deal with temptations when you can see and address them honestly.
It always starts out small. That's what I've realized with many sins in my life. However, no other sin shows such a marked increase in "severity" once that first sin gets in, than sexual temptation.
Don't get me wrong, when I say "severity", I am not saying that looking at a clothed woman with lust is any less sinful than looking at someone without any clothes at all. I am saying, as you probably know, that giving in to lust in a small area is just the start.
Let me explain. We know where to go to get just a small amount of satisfaction. There are very "safe" websites that we can go to see beautiful women. Maybe I go to a sportswebsite to check on my fantasy team. That isn't bad right?
No, by itself, it isn't wrong. But I know that I can look at the ads at the bottom of the page, and possibly see some good looking women down there. They aren't naked. It's not images of a porno. But they are placed there for men like us to look at.
The same goes for other websites, TV, or magazines. There are always places we can go to see things we shouldn't. The websites themselves aren't porn sites, but they do have stimulating content that is intended to draw people in. So I deceive myself by saying that I'm going to that news website to see the headlines, but that entertainment section has some good-looking women advertised on the home page. I'm sinning regardless, and the problem is that even the smallest of these sexual sins are wrong! I am still committing adultery, even if I have not seen them naked.
Christ makes this perfectly clear in Matthew 5:27-28, "You have heard it said, 'You shall not commit adultery.' But I say to you that everyone who looks at a woman with lustful intent has already committed adultery with her in his heart." Unfortunately for most of us, that is a lot of adultery.
How do we handle this? This seems really strict, and, again, my mind starts to try finding ways to rationalize my sin. "I can't possibly handle this, so God will understand a little bit of looking."
Adultery
"It can't possibly mean that just a few glances will be adultery, that's absurd. Adultery is actually sleeping with someone"
Everyone who looks at a woman
No matter where I look, and what excuses I make, I am surrounded by God's Law. And I'm incapable of keeping it. Wretched man that I am! But thanks be to God through Jesus Christ our Lord! (Romans 7). We know because of His sacrifice for us, and for His righteousness, we are no longer condemned by these sins. Our sins have been paid for. God treated and judged Christ as if our sins were His. He paid the ultimate penalty for our sins. Our sins were imputed to Christ on the cross. Not only that, but His perfect righteousness was and is imputed to us as well. When He looks at us in all of our sinfulness and our inability to keep the law as we should, He sees the perfection of Christ. And when he looked at Christ in judgment, he saw our sins, and punished Him for them. He saw the adultery that I would commit, every look and every lust, and paid for each and every one of them. What should my response be to this amazing news? Should I use it as a ticket to keep on sinning? How would that be showing love to the one who loved me so much first?
My response should be love and obedience to Him. I know I will stumble and fall, and I will not love perfectly until I am in glory with Him. But that is the Christian life: struggling forward towards the goal of salvation.